Home
The Dimensions of Colour
Basics of Light and Shade
Basics of Colour Vision
Additive Colour Mixing
Subtractive Colour Mixing
Colour Mixing in Paints
Hue
Lightness and Chroma
Brightness and Saturation
Principles of Colour
References
Contact
Links
NEXT COLOUR
WORKSHOPS
PART 4. ADDITIVE COLOUR MIXING
4.1 ADDITIVE PRIMARIES
We saw earlier that the three cone types effectively divide the visible spectrum into three bands, in each of which the response of one cone type predominates over the other two, so that by mixing lights from each of these bands we could produce light stimuli invoking strong opponent signals, and thus strong colour, throughout the 360 degree range of possible hues. This is how the colours on your computer screen are generated, from phosphors of just three colours, a red or orange-red (R), a green (G), and a blue or violet-blue (B). All of the colours that you have ever seen on a computer or television screen, including white and grey, were created by mixtures of lights of three such colours (Fig. 4.1.1).
Figure 4.1.1. Generation of screen colours from different combinations of RGB lights.
This process of "mixing colour" by combining coloured lights is called additive mixing, and the colours of the lights used to create such mixtures are called additive primaries. Any three coloured lights will have a range or gamut of colours that they can produce by mixing, and will be unable to mix colours outside that gamut. In scientific literature any lights used in additive mixing can be referred to as primaries, but in general use the term implies lights yielding a relatively large gamut of additive mixtures, by analogy with the original usage of the expression, for colours yielding a large gamut in paint mixing. It is a mistake to slip into thinking of any particular R,G and B colours as the additive primaries, but it is equally mistaken to overstate the arbitrariness of the functional primaries. Although the precise hues are flexible, to be at all effective as additive primaries the three stimuli must remain within the basic hue categories of red to orange, green, and blue to violet respectively.
Which precise hues are optimal as additive primaries depends on the nature and purpose of the device doing the mixing. For mixing monochromatic lights (lights of a single wavelength), the maximum gamut is generated by lights of wavelengths of 400 nm (extreme spectral violet), 535 nm (yellowish green) and 700 nm (extreme spectral red). Figure 4.1.2 shows this maximum monochromatic gamut on a CIE xyY or chromaticity diagram. On this diagram the horseshoe-shaped line represents the monochromatic lights of the spectrum, the straight line represents mixtures of extreme spectral red and violet, and saturation increases outwards from a "white point" to these absolute limits. A property of the CIE chromaticity diagram is that additive mixing paths follow straight lines, so the gamut forms a straight-sided triangle. It will be evident that no combination of three real lights, which must lie within the rounded horseshoe shape, can have a gamut that encloses the entire shape.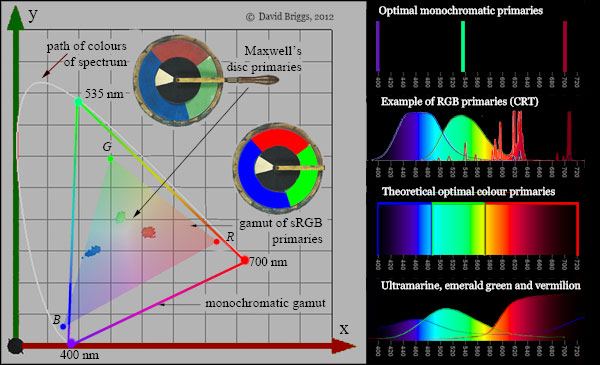 Figure 4.1.2. CIE 1931 chromaticity diagram showing maximum additive mixing gamut of three monochromatic lights (Hardy and Wurzburg, 1937), a representative RGB gamut called sRGB, and colours of the three primaries on one of James Clerk Maxwell's 19th century spinning disc devices. (Maxwell's pigments, particularly the vermilion, may have dulled with time). Beside actual pigments, the theoretical optimal colours would have a fluorent appearance, much like the RGB primaries in the second version of the disc. Spectra of CRT screen primaries are from Wikipedia.
Using monochromatic lights would be a very energy-inefficient way of creating colour on a computer screen. The primaries used on monitors are chosen as a compromise between an acceptably broad gamut on the one hand and energy efficiency on the other. The compromise that is chosen varies greatly among different manufacturers, particularly for laptop screens where energy efficiency directly impacts on battery life. Figure 4.1.2 shows a standard colour space called sRGB as a representative RGB gamut. Laptop screens may have a smaller or larger gamut than sRGB.
Surfaces that reflect monochromatic light would be extremely dark in appearance and thus completely ineffective for additive processes such as spinning discs, which involve averaging of light stimuli over an area. Here the biggest gamuts in theory would be obtained from orange-red, yellow-green, and violet-blue optimal colours, each completely reflecting about a third of the spectrum, and completely absorbing the rest. In the mid-nineteenth century James Clerk Maxwell approximated these colours in his spinning disc experiments using the pigments vermilion, emerald green and ultramarine. Beside actual pigments the theoretical optimal colour primaries would be extremely high-chroma and fluorent (fluorescent-looking), closely resembling the RGB screen primaries in the second disc in Fig. 4.1.2.
Page modified August 5, 2012. Original text here.