Home
The Dimensions of Colour
Basics of Light and Shade
Basics of Colour Vision
Additive Colour Mixing
Subtractive Colour Mixing
Colour Mixing in Paints
Hue
Lightness and Chroma
Brightness and Saturation
Principles of Colour
Afterthoughts
Glossary
References
Contact
Links
NEXT COLOUR
WORKSHOPS
MODERN COLOUR THEORY FOR TRADITIONAL AND DIGITAL PAINTING MEDIA
by Dr David. J.C. Briggs,
Julian Ashton Art School and National Art School, Sydney, Australia.
Vice President and NSW Divisional Chair, Colour Society of Australia.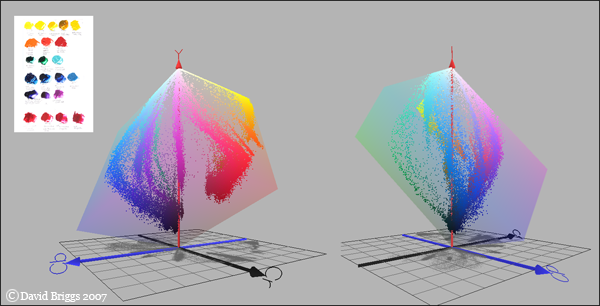 Colours of twenty two common artists pigments at various thicknesses over a white ground. Photographed colours displayed in YCbCr space using the program ColorSpace by Philippe Colantoni.
This website presents an account of the dimensions of colour and light perception, written for painters using either traditional or digital media. The conceptual framework presented here was developed as a component of Colour, Light and Vision, a course in colour theory and practice for artists that I have been presenting since 1998 at the Julian Ashton Art School, Sydney, of Theories of Colour, a lecture course on the history of colour theory and practice that I presented at the National Art School, Sydney, in 2009-2011, and of ongoing practical painting classes at both schools.
Site Contents

All pages published in 2007 unless otherwise stated; latest revisions indicated in red:

1 The Dimensions Introduced (revised 2017)

Acknowledgements
Unless otherwise indicated, all material on this website is copyright Dr David Briggs, 2007-2015, and is licensed for personal and commercial use under the terms of a Creative Commons Attribution-No Derivative Works 2.5 Australia license.
Interactive demonstration of additive colour mixing. Drag the top, middle and bottom triangular yellow sliders to the left to control the brightnesses of the red, green and blue spotlights respectively. Copyright David Briggs and Ray Kristanto, 2007.
Next: Colours in Space